Specifications of Canned Motor Non-seal Pump
1). Capacity: Q up to 1200m3/h
2). Head: H up to 800m
3). Fluid Temp. Range: -200 to 450°C
4). Material:
Metallic: SS304/316316L; Hastelloy C4, C276 etc;
Insulation: H, C, Super-C, etc
Gasket: PTFE, Metal Spiral Wound etc
5). Flange Standard: ANSI, ASME, HG, DIN, JIS, GB, SH etc (2 times API nozzle loads)
6). Standard Ex-proof terminal box: Exd IIC T1-4, Exd IIBT1-4
7). High efficiency and cavitation performance design. Optional inducers available for minimum NPSH requirements.
8). Automatic axial thrust balance design

Application of Canned Motor Non-seal Pump
Be used in petroleum, chemical, medicine, Textile, nuclear power, military industry, shipbuilding and city water supply and drainage, fire-fighting pressurized, high-rise buildings pressurized water supply.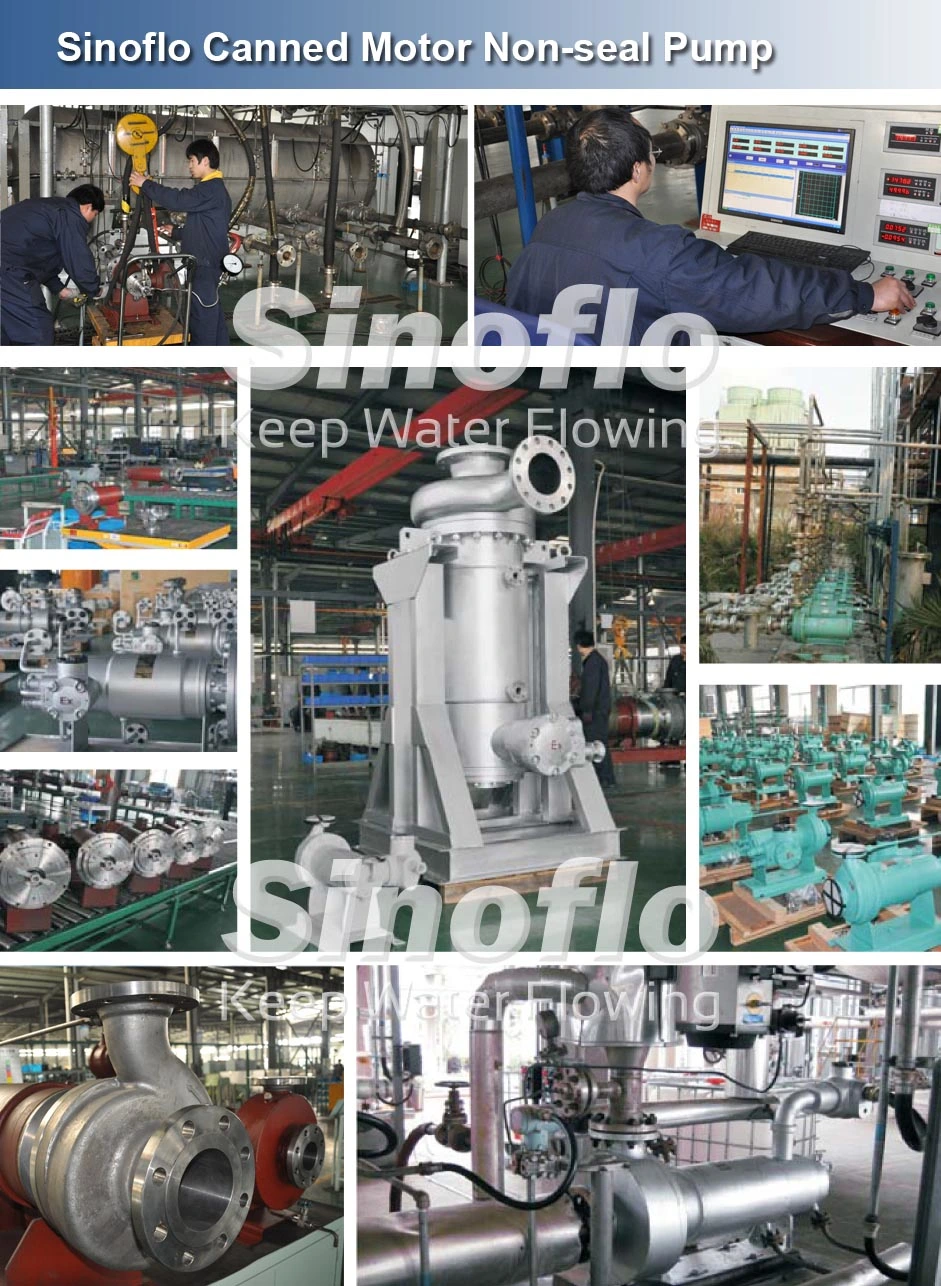 Description of Canned Motor Non-seal Pump
1).No Leakage
Suitable for handling flammable, explosive, toxic, corrosive and expensive fluids hermetically.
2).Airtight
Suitable for handling vacuum tight system ,fluids that react to contact when contact with air.
3).No Shaft Seal
Suitable for handling high pressure system, high or lower temperature fluids, high melting point fluids.
4).No External Lubrication
Self-lubrication design,no lubrication required for motor bearings and no lubrication levels to check or maintain.
5).Compact Design
Small, compact and self contained, installation costs are reduced with minimal foundation requirements.
6).Low Noise & Vibration
Totally enclosed with neither motor fans nor exposed bearings.