Stainless steel food grade syrup transfer pump,tomato paste rotary lobe transfer pump with trolley
Principle
Rotor pump is also named colloid pump, three-lobe pump, sole pump, etc. When the 2 simultaneous reverse rotating rotors (with 2-4 gears) revolve, it produces suction force at the inlet (vacuum), which intakes the material delivered. The 2 rotors divide the rotor housing into many smaller parts and revolve in the sequence of a-b-c-d. When it revolves to position a, only housing | is filled with medium, when it revolves to position b, housing B encloses medium, and finally it goes to position d, then housing A, B and || are interlinked and the medium is transported to the outlet. As this process is repeated, medium (material) is transported continuously.
Technical Parameter
Model

Capacity(L)

Speed(rpm)

Flow(L/h)

Power(kw)

Connection type

HD-3

3L

200-500

300-800

0.55

Clamp
Union
Flange

HD-6

6L

200-500

650-1600

0.75

HD-8

8L

200-500

850-2160

1.5

HD-12

12L

200-500

1300-3200

2.2

HD-20

20L

200-500

2100-5400

3

HD-30

30L

200-400

3200-6400

4

HD-36

36L

200-400

3800-7600

4

HD-52

52L

200-400

5600-11000

2.5

HD-66

66L

200-400

7100-14000

7.5

HD-78

78L

200-400

9000-18000

7.5

HD-100

100L

200-400

11000-22000

11

HD-135

125L

200-400

15000-30000

15

HD-160

160L

200-400

17000-34000

18.45

HD-200

200L

200-400

21600-43000

22
Characteristic of rotor pump
Lobe pump belongs to positive displacement pump, flow can be controlled accurately and can change to variable pump conveniently.
The rotation speed of lobe pump is very low, normally between 100rpm and 500rpm, the material is sent out smoothly and the component is not changed.
Lobe pump can transfer high viscosity material, so it also called colloid pump.
Lobe pump can be made as rather high output pressure conveniently, suitable to long distance or high resistance dosing transfer.
Product Show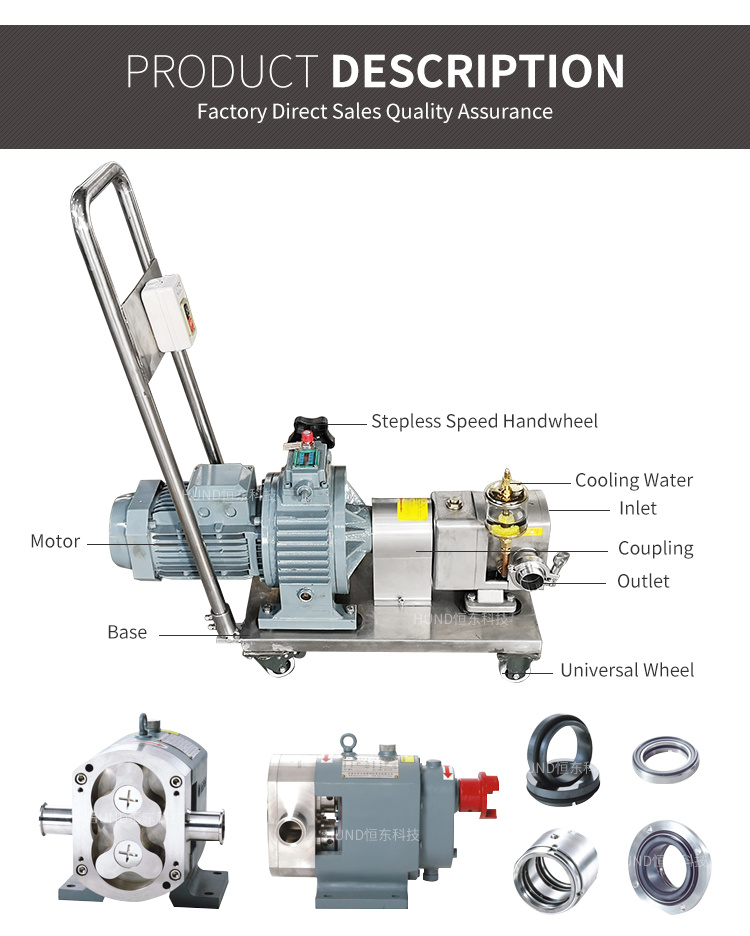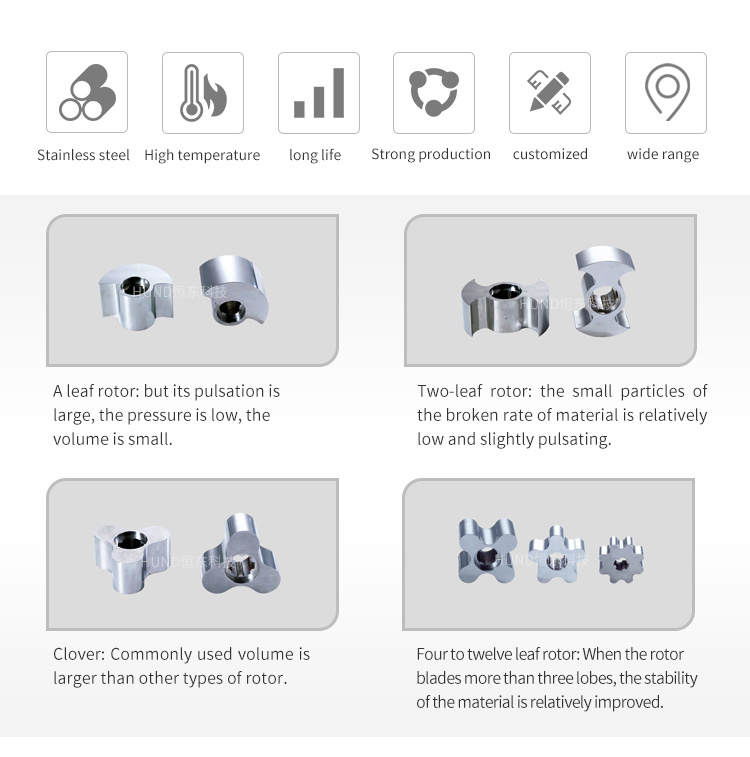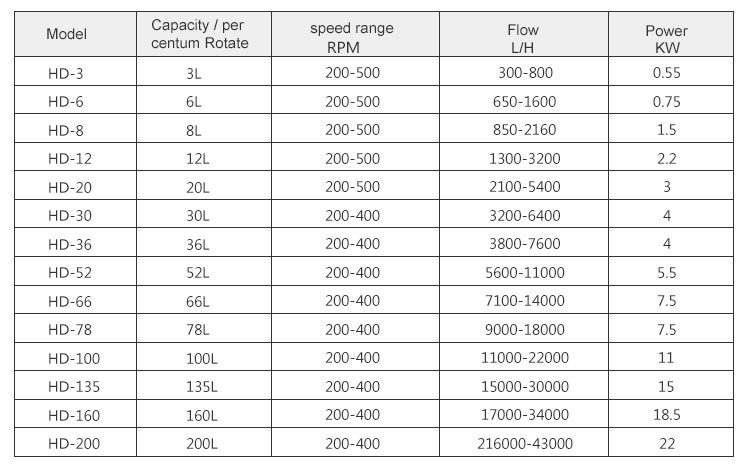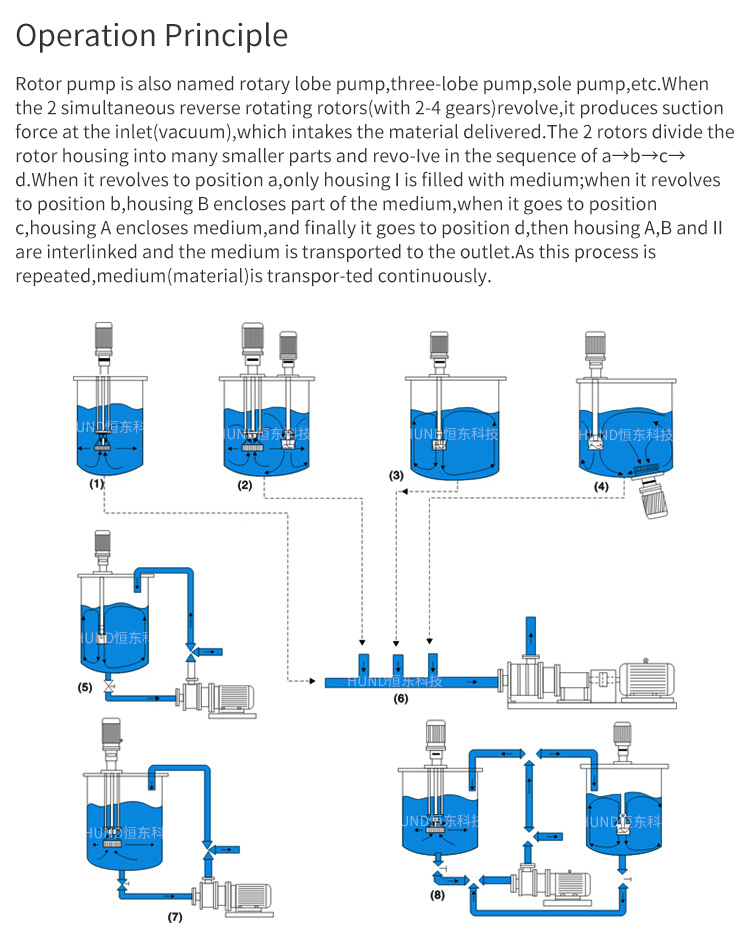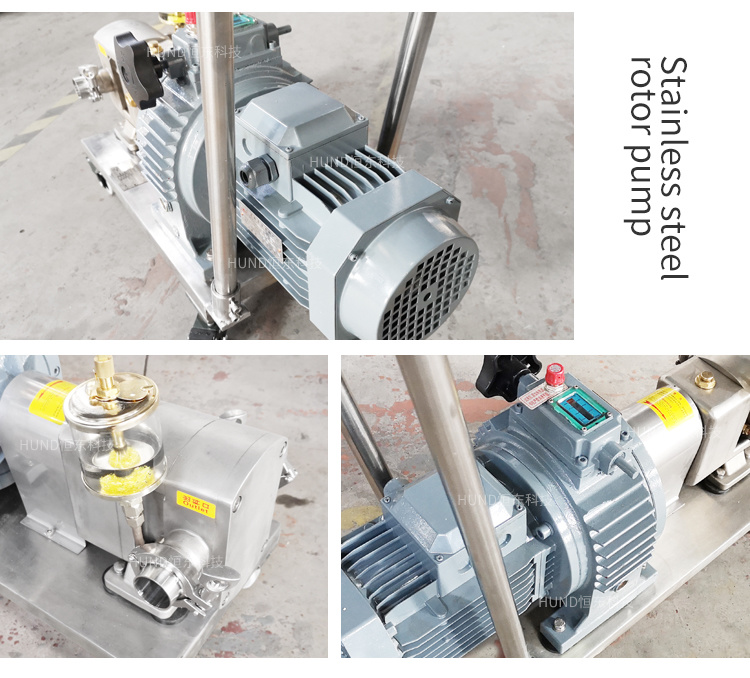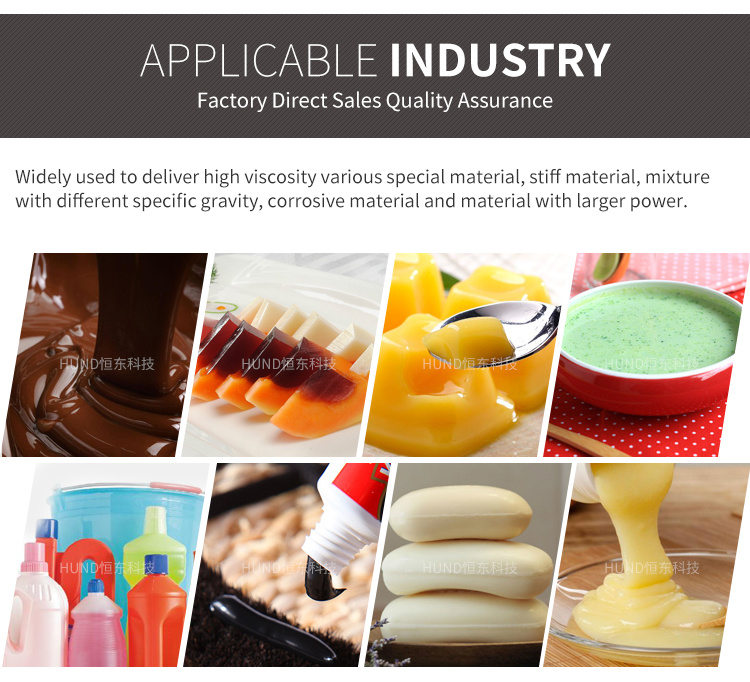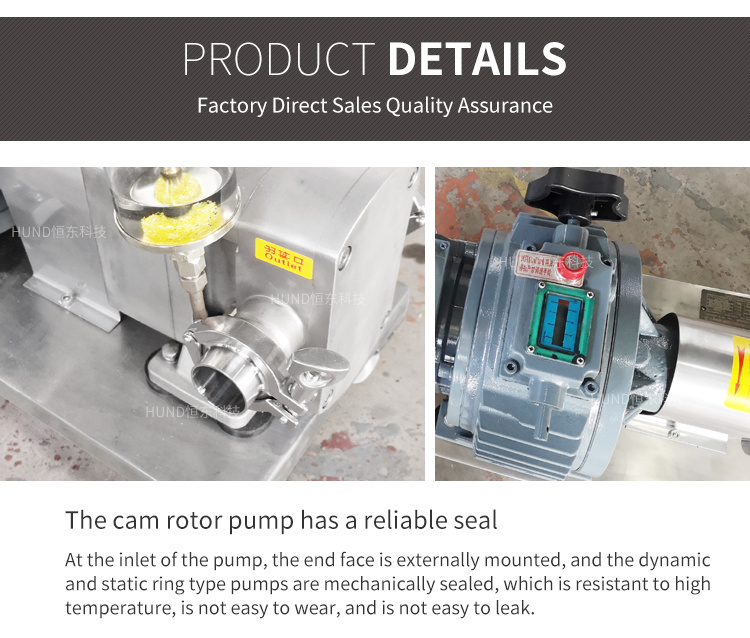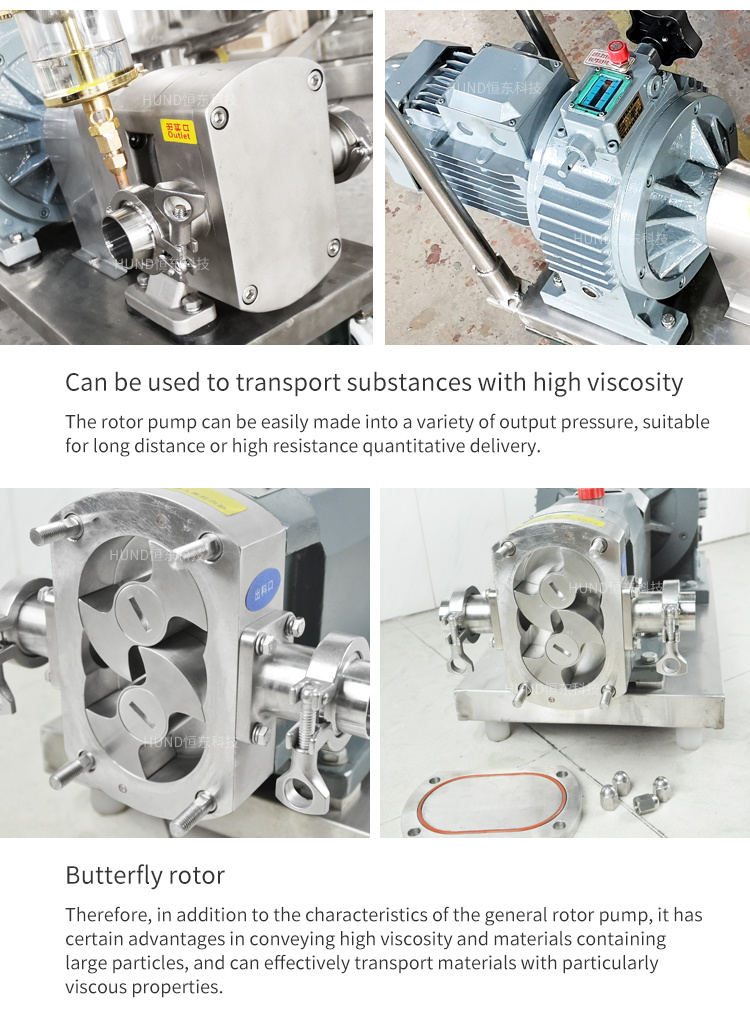 About HUNDOM
Guangzhou HUNDOM Machinery Equipment Technology Co., Ltd. was founded in 2003, is a high-tech enterprise integrating R&D, production and sales. It has more than 17 years of mechanical manufacturing experience. Main production: homogeneous emulsion tank, high-speed mixing tank, heating mixing tank,
in-line
high shear pump, colloid mill, conveying pump, filters etc. HUNDOM has mature technology and high quality products to meet various requirements in the field of food, pharmaceutical and chemical industry.
With a high level of R&D system, HUNDOM constantly strives to improve product quality and technical standards, constantly develops product functions to enhance product life and adherence to precision manufacturing. The ex-factory products need to undergo strict quality inspection procedures to ensure that they meet the quality requirements and inspection standards of all walks of life. The mature technology and rigorous attitude are the guarantee of HUNDOM Technology's product quality, to
think what the customer thinks, and pleased what the customer likes. Provide a reasonable and effective equipment solution. Please believe us: there are high quality products, mature facilities and engineering teams waiting for you. Let's discuss, make decisions and make progress together with you.